Collapsible content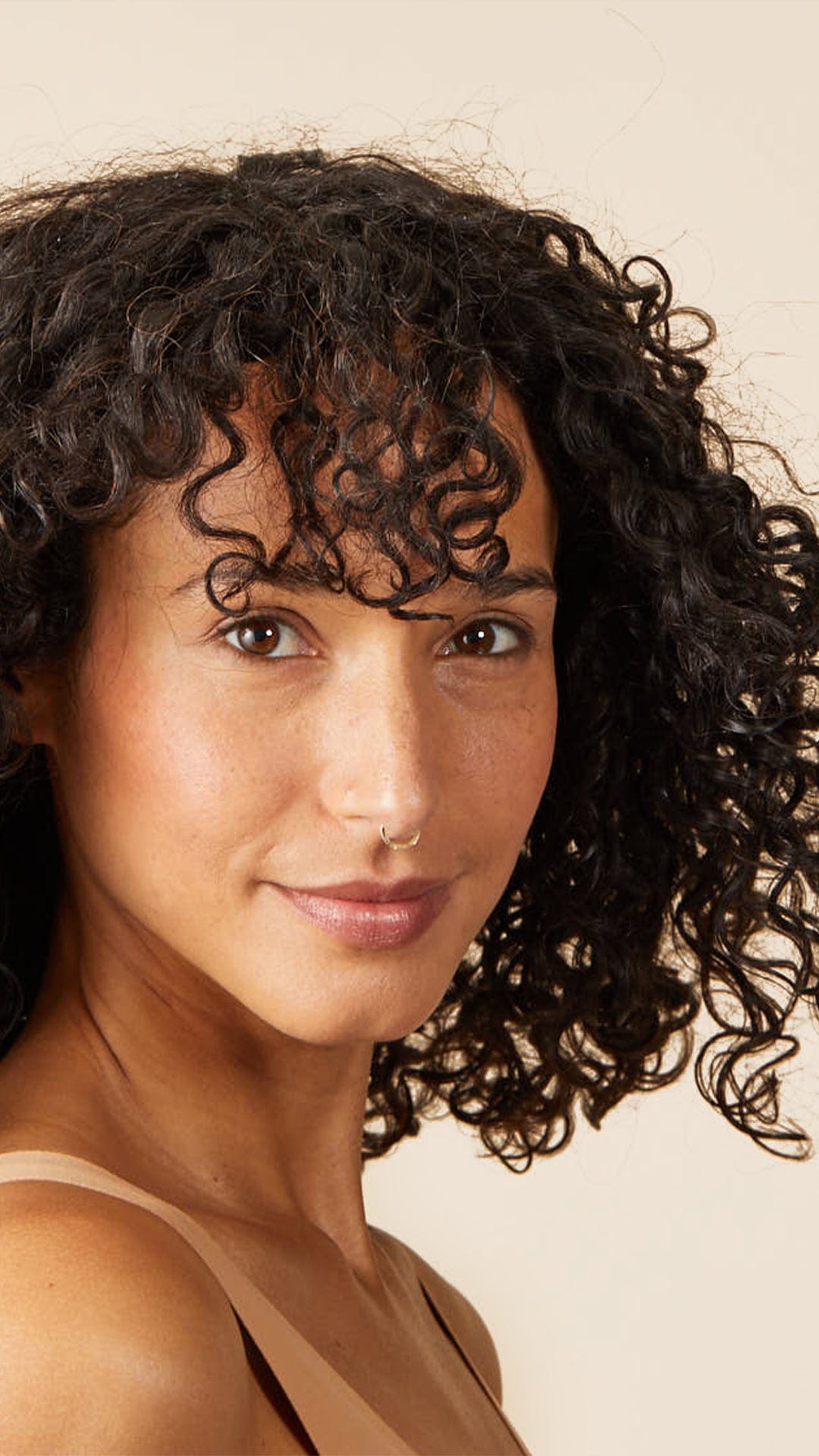 Brand & Product
How do you pronounce Bouclème?
What distinguishes Bouclème formulas from other natural hair care product brands?

Our formulations are made with at least 94% naturally derived ingredients which are scientifically proven to deliver great results for curly hair.

We use organic and biodegradable ingredients and all Bouclème products are free of sulphates, silicones, drying alcohols, mineral oils, PEGs, parabens, artificial fragrances and colours. Our products are fragranced only with essential oils for well-being.

And our eco-certified preservative is used in the minimum amount possible. It protects our carefully selected ingredients from developing harmful mould and bacteria, prolonging product shelf life.
Are your products vegan?

Yes, most of our products are vegan. Our 100% vegan products can be viewed here.

Since 2019 we have switched to a vegan-friendly Xanthan Gum which has allowed us to expand the vegan friendly products within our range.

The Curl Cleanser, Curl Conditioner, Intensive Moisture Treatment and Root Refresh contain honey, and we're not currently looking to change this, simply because of the great benefits using honey offers. Curly hair thrives on moisture and honey is a great humectant which attracts moisture in the air and helps to hold it in combating any dryness leaving curls looking beautifully moisturised.
Are your products cruelty free?

Bouclème believes that beauty products should be cruelty free. We are proud to be Leaping Bunny approved. A global programme, Leaping Bunny requires cruelty free standards over and above legal requirements.

All of our own brand cosmetic and personal care products are approved under the Cruelty Free International Leaping Bunny programme, the internationally recognised gold standard for cruelty free products. We adhere to a fixed cut-off date policy and proactively monitor our suppliers to ensure that our products continue to adhere to the Leaping Bunny criteria. Our supplier monitoring system is also independently audited.

For more information about Cruelty Free International, Leaping Bunny and Leaping Bunny criteria, please visit www.crueltyfreeinternational.org.
Are your products suitable for children?

Yes, all our products are safe for use on children.
Are your products suitable to use when pregnant?

Yes, our products are safe to use on your curls when pregnant. They do contain essential oils so please refer to your GP for further advice.
30 Day Guarantee

Finding the right product for your curls can be expensive and we want you to be able to buy Bouclème products with confidence.

We hope that you will love your Bouclème products however if you decide it's not right for you we will happily offer you a refund or exchange on all standard size products within 30 days of receiving them.

Items excluded from the guarantee are gift sets, travel sizes (100ml or under), grande sizes (1 litre), samples or accessories. These can be returned, unopened within 14 days of receipt in their original condition.

Please note, the costs associated with the return are the responsibility of the customer.


To process a refund, please email infoUS@boucleme.co.uk with your order number.
Your curly routine
I'm new to embracing my curls, will your products help me during my transition?

Welcome to the strong curls club, we've got you! Transitioning can be a long and sometimes frustrating process, but that's okay, it's a marathon, not a sprint!

When switching to new products it can take up to 4 weeks for you to work out how best to use for your unique curl type and texture.

If your previous products contained sulphates and/or silicones your hair will need a little time to detox and adjust.

If you're struggling to work out how to get optimum results please email us at infoUS@boucleme.co.uk with a picture of your hair and we'll get back to you with some tips and tricks.

You'll know that the products are working when you start to notice your curls are more defined, shiny and with lovely volume.
How often should I wash my hair?

Always remember that curly hair loves moisture and water offers essential hydration. You can find out more about your hair type, texture and porosity in our curlcare guide.

We have two types of cleansers. Our Curl Cleanser is a non-foaming conditioning based cleanser and our Hydrating Hair Cleanser a low foaming shampoo.

For loose waves and curls: we recommend cleansing hair every 2 - 3 days to prevent oily roots and to ensure your curls stay healthy and defined. We recommend alternating between Hydrating Hair Cleanser and Curl Cleanser to balance oil production in the scalp whilst maintaining maximum moisture in length of hair.

For medium curls: Cleanse hair 1-2 times a week to maintain optimum hair hydration.

Tight, coily curl types: Wash hair at least once a week, you can refresh curls during the week by using a spray bottle with curl cream/ conditioner mixed with water to freshen curls until wash day!
Your order
Can I amend or cancel my order?

We are unable to amend or cancel orders once they have been placed. Please take care to check address details before placing your order.

We are happy to offer an exchange or refund within 14 days of receiving your order (or 30 days if the product is valid for our 30 day guarantee). Email us at infoUS@boucleme.co.uk to request.
Shipping
Where do you ship?

We ship to the contiguous 48 states, Alaska, Hawaii, Puerto Rico and US military locations.

FREE standard shipping on orders over $75* (exclusions apply).

For orders shipping to the rest of the world, please visit boucleme.co.uk.
How much does shipping cost?

Standard delivery: UPS Surepost will deliver within 2-7 business days (contiguous 48 US States) depending on your location. The cost is $4.99 per order or FREE if your order value is over $75.

Priority delivery: USPS Priority Mail is an enhanced service and will deliver within 1-3 business days (48 contiguous US States) depending on your location. The cost of this service is $14 per order.

We also deliver to Alaska, Hawaii, Puerto Rico and US military locations. The cost of these services ranges from $9.99 to $29.99 depending on the size of your order and is FREE if your order value is over $150.
Do you ship to PO Boxes or military addresses?

Unfortunately, we are not able to deliver to PO boxes. We reserve the right to cancel and refund any orders with these types of postal addresses before they are fulfilled.

We are able to deliver to military addresses.
When will my order be shipped?

All orders placed before 10:55am CST Monday - Friday are processed and despatched the same day.

Orders placed after this time will be processed and despatched the following business day.

Any orders placed after 10:55am on a Friday will be processed and sent out the following Monday or business day.

Please note weekends and bank holidays are excluded.
How long will it take my order to arrive?

Standard delivery takes 2-7 business days. Priority delivery takes 1 - 3 business days. However for unforeseen circumstances out of our control it can take up to 10 working days for your order to arrive.

Please note, we cannot take responsibility for delays in delivery that are outside of our control including industrial action, severe weather conditions or any other extraordinary circumstance that causes unforeseen interference with carrier routes. We endeavour to make our customers aware should a situation arise and to know when to expect delays.
How do I find my tracking number?

You'll find your tracking number in the Shipping Confirmation email that we send as soon as your order begins its journey.

If your tracking number doesn't work please us email infoUS@boucleme.co.uk with your order number.
My order hasn't arrived.

If your order hasn't arrived within the estimated time for your destination, please do email us at infoUS@boucleme.co.uk with your order number and we'll look into it for you.
Returns
What is your returns policy?

Your satisfaction is of great value to us, so we offer a 30-day guarantee return policy on our standard size products. If you are not completely satisfied with your goods, simply return them to us within this time for a full refund.

Unfortunately we cannot offer the guarantee on any gift sets, travel sizes (100ml or under), grande sizes (1 litre), samples or accessories. These can be returned, unopened within 14 days of receipt in their original condition.

Please note, the costs associated with the return are the responsibility of the customer.


Please contact infoUS@boucleme.co.uk to initiate your return before shipping the products back.
When will I recieve my refund?

All successfully returned items will be credited to the original payment method, you will receive an email notification when your return has been processed. 

Please note that refunds can take up to 10 working days to show on your account due to varying processing times between payment providers.
Subscription
How does subscriptions work?

See details on subscriptions here.
Rewards
 How does the Strong Curls Club work?

See details on how to earn and redeem rewards here.
Wholesale
How can I stock Bouclème products?

Please email us at wholesale@boucleme.co.uk with details of your store or salon. We will review and get back to you as soon as possible.
Work with us
Do you have any vacancies or intern positions?

You can find current career opportunities here.

If there's nothing currently listed, please email your CV & cover letter to infoUS@boucleme.co.uk. We will keep your CV on file should an opportunity arise.